The Beatles: Get Backf05818ae02b986378c5454482dca0b3b
People come to love the Beatles in different ways. For many millennial fans, it was their parents' records that set them on this righteous path. Others, like Peter Jackson, were first introduced to the band through the Red and Blue compilation albums. I initially dismissed the Beatles' music when my mother gifted these colourful CDs to my teenage self, but then Michael Jackson died, and Paul McCartney's sweet voice on the duet 'The Girl is Mine' finally led me into an intense obsession with the Fab Four.
This passion was in large part fuelled by the blogging website Tumblr, which gave me the chance to see and save in a dedicated file on my computer thousands of Beatles pictures and fan art, the modern version of what the original Beatlemaniacs before me did when cutting out pictures from magazines. The Tumblr-born fan in me is therefore more than a little rattled by what Peter Jackson and his team have done to newly available footage culled from what was one of the Beatles' saddest if creatively productive moments.
On 2 January, 1969, the band met up at Twickenham Studios to face an unusual challenge: they had given themselves two weeks to write and rehearse new songs for an album that would then be recorded live in front of an audience, during a concert that would also be filmed for a television special.
The band that had once played on stage eight hours a day for months at a time in clubs in Hamburg, Germany, in the early 1960s missed the camaraderie and excitement of live performance, since they'd stopped touring in 1966. This was, in some ways, a chance to reignite the spark after what had been a difficult and tense few months – what must have seemed an eternity for the ever-prolific group.
The album and film did happen, and until recently were remembered more for capturing the band's breakup than anything else. Released in May 1970, the film Let It Be came out just three weeks after the separation, which inevitably cast a tragic light on the footage of their rehearsals and recording sessions as they were presented in director Michael Lindsay-Hogg's 80-minute movie. The album similarly occupied a strange place in the Beatles' canon, as the former band members disagreed on whether Phil Spector's mastering and his famous 'Wall of Sound' effect made the intentionally stripped-down recordings sound better or worse.
For all intents and purposes Let It Be was, for a time, a project that most of those involved and most fans, including this writer, understandably tended to ignore in conversations about the band. Fifty-one years later, filmmaker and restoration aficionado Peter Jackson aims to set the record straight (or, at least, straighter) about what exactly took place during these few weeks in January '69. His epic three-part documentary The Beatles: Get Back is based on the 60 hours of footage and the 150 hours of audio recordings that were captured at the time and kept in Apple Corps' vaults all these years.
Any Beatles fan should be giddy at the prospect of this film; however, none could have anticipated that the end result would be so visually strange. While the entire enterprise is welcome in many respects, the fact that the Let It Be/'Get Back' project has once again been excessively tinkered with only reinforces the feeling of a curse surrounding it.
Shot on 16mm, the preferred format for television at the time, the footage from the 'Get Back' sessions was blown up to 35mm when the project evolved from a TV special to a cinema documentary, and contemporary reviewers were not kind about how grainy the resulting film looked. Amazingly, Jackson and his team appear to have learned the wrong lesson from this history. Rather than leaving the footage alone, which was shot for TV and will be watched on TV via Disney+, they decided to export the 16mm footage to the extremely sharp format of 4K video and clean it to within an inch of its life, removing scratches and overly polishing surfaces and colours in the image.
Ringo has never looked smoother and the band's Playmobil haircuts appear made of actual plastic, with Jackson's cutting-edge technology turning whole strands of hair into one unified, shiny surface. Looking at older videos of relatively untouched, grainy but beautiful footage of the same events on the Beatles' YouTube channel, it's clear that things did not have to turn out this way.
It seems Jackson's intention was to totally erase the feeling of watching archive footage and the fetishisation that comes with it. It is a commendable project, and just like the almost real-time aspect of the enterprise, the absence of grain is supposed to make it easier to see the Beatles not as demigods or icons divorced from reality, but as people like you and me (Jackson used the same logic in his World War One documentary They Shall Not Grow Old, smoothing out, colourising, and retiming even older footage).
"As the film cuts between long takes and extremely short ones with no respect for conventional editing, it sometimes feels as if we are watching a reality TV show."
The near eight-hour runtime does offer the chance to get over the initial shock, but the glossy cinematography never gives the feeling of watching real people at all. What does help proceedings is the editing of footage from the various cameras that filmed the band in the studio and, later, in the basement of the Apple offices. Jackson and his team have painstakingly synchronised the audio with the images from every available angle, creating a strange atmosphere.
As the film cuts between long takes and extremely short ones with no respect for conventional editing, it sometimes feels as if we are watching a reality TV show where the Beatles are stuck together in a big room, which in fact isn't a bad way to describe the arrangement.
John, Paul, George and Ringo's instruments are set up on stage one at Twickenham Studios, an enormous room with an extremely high ceiling and, according to George, not very good acoustics. They nevertheless begin jamming, and though they don't behave particularly warmly towards one another, there is nothing to indicate any real animosity. In these first few days, Paul immediately takes the lead while John, with Yoko by his side, is almost completely silent but not apparently upset – in one lovely moment, he leads the others in playing Anton Karas' theme from The Third Man.
Ringo participates, and George too: the scene in which he talks about how he came up with 'I Me Mine' the night before is particularly moving, with John and Yoko waltzing to the already almost fully-formed song. Yet despite the fast approaching deadline, they spend most of their time playing around rather than actively creating new songs, and there is a sense that the Beatles have not done this kind of thing – simply playing together – in a long time.
Almost every day includes discussions about the entire project with the film's director and other crew members. One particular subject of contention is the location and staging for the live show. This general indecisiveness would appear normal to any non-Beatles person, but those early sessions are full of moments reminding us that the band is working on another level. At one point, someone comes up with a staging idea very similar to something the band had done in 1964. Director Lindsay-Hogg immediately rejects it, saying that this was four years ago, "and we're all 28 now."
These high expectations are keenly felt in McCartney's behaviour and comments as the most proactive and least patient of the group. Although the breakup of the Beatles is most often put down to the rift between Lennon and McCartney, here Harrison is the one to call out Paul on his dismissive attitude. Whether it is due to the effect of the cameras or not, however, everyone shows a refreshing self-awareness and level-headedness that does not fit with the common conception of this tense period in the band's history.
Paul admits to being conscious of his bossy attitude: later on, when asked about Yoko's presence, he imagines the simplistic readings that some people might have of the situation in 50 years time – today – about the band breaking up because she sat on an amp. And no one ever raises their voice. When, at the end of the first week, George announces he is leaving the band, he might as well be talking about breaking for lunch.
Just how miserable they all were in that first week only becomes clear later, once John, Paul and Ringo convince George off-camera to return and promise to change the way things will be done going forwards. Leaving behind Twickenham Studio's "bad vibes," as George describes them, they move to a makeshift studio in the basement of their own Apple offices on Savile Row, and in the much smaller room, their connection is restored. George smiles more, but it is John's transformation that is the most striking. His brand of absurd humour makes a triumphant return and George even helps Paul on his new song 'Get Back'.
An element Jackson handles very well is the sound, and one feels for him and his team whose thankless task it was to try and decipher some of the band's conversations. One of the strongest impressions left by the series is the particular way Paul, John, George and Ringo communicate when writing songs. Not being classically trained, they have their own ways of making the others understand what they are going for, and their almost amateurish methods appear incredibly fertile ground for their limitless creativity.
Though the detailed, experience- and process-focused film does not exactly rely on shock value to sustain interest, it does provide something of a revelation in its portrayal of the infamous rooftop concert. After rejecting ideas such as doing the show on a cruise ship or on Primrose Hill, the band agrees to perform on the roof of their own building, without any sort of permit and simply hoping that the ceiling won't give way.
Although I've personally always loved the footage of this performance for its rawness and power, it does deviate greatly from the wobbly heads and high energy of earlier Beatles shows – the Fab Four look positively freezing, and the puzzled passers-by in the street below and on nearby rooftops do not seem particularly excited. By including a lot more footage of the band as they perform 'Get Back', 'Don't Let Me Down' and other songs, Jackson acclimatises viewers to this cold January day just as the band itself would have been.
The four men appear to become increasingly elated as they play, and though Lennon soon complains about his freezing fingers, this is the happiest he has looked in the entire series. Additional street interviews with random people reacting to this impromptu, completely unannounced performance further ground the event in reality, and reveal a crowd of people who are far from fainting with excitement, but nonetheless disbelieving and delighted.
Jackson's series is not without its (glaring, annoying) faults, but it succeeds in doing what even my younger, overly-excited Beatles-obsessed self never dared hope for: it solves a little of the mystery of how these four lads from Liverpool achieved what they did, without taking away any of their magic.
---
ANTICIPATION.

Don't let me down!
4
ENJOYMENT.

Pools of sorrow…
3
IN RETROSPECT.


Waves of joy!
4
---
Directed by



Peter Jackson

Starring



Paul McCartney,

John Lennon,

George Harrison

The post The Beatles: Get Back appeared first on Little White Lies.
Peter Jackson unearths and re-edits footage of the Beatles' last hurrah, with euphoric and exasperating results.
The post The Beatles: Get Back appeared first on Little White Lies. […]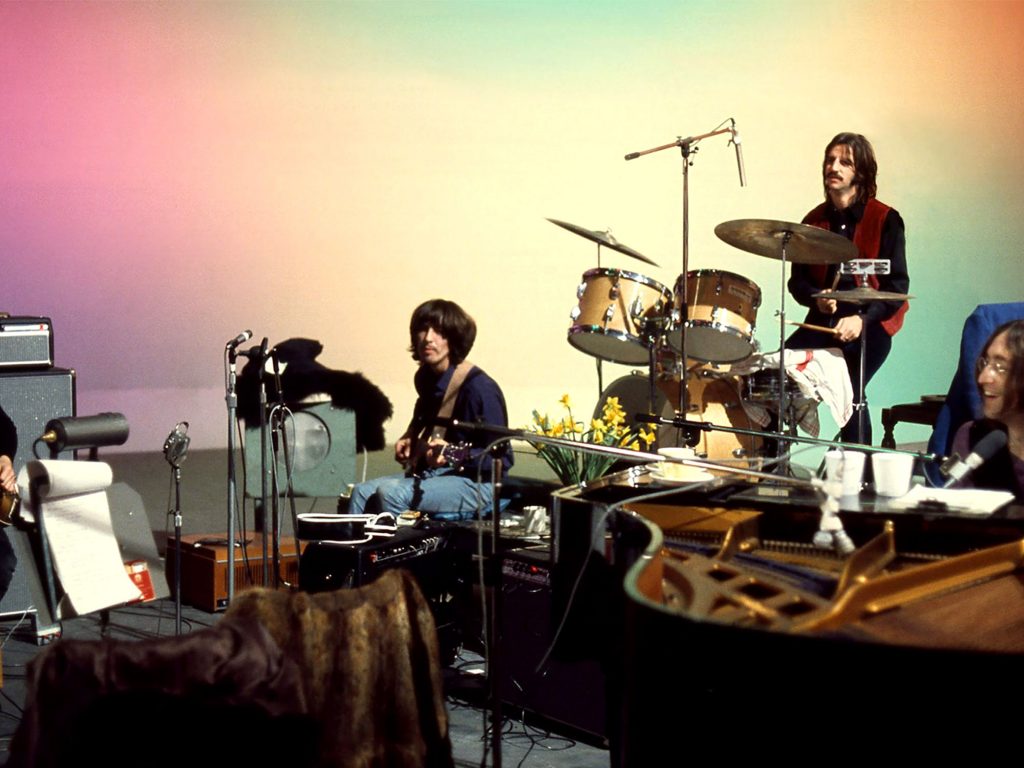 Read More