Short and Sweete2be8a5b524029c41c84762c9ae82c0c
Whether you're looking for a quick family getaway that'll please everyone without busting your budget, an outdoor excursion beyond the beach, a romantic day trip that spares no expenses or anything in between, there's a wealth of options to choose from throughout The Sunshine State—all within a few hours of the Greater Orlando area.
Boca Raton
Situated on Florida's southeastern coast, The Beverly Hills of Florida is known for its lush golf courses, inviting parks and two miles of picturesque beaches—fitting for a town that architect and town planner Addison Mizner predicted would become the "foremost resort city on the North American continent" in 1925. It has plenty of culture and history, too, while downtown's Mizner Park boasts a wealth of dining, shopping and entertainment options. It even has some family-friendly options, like picnicking at Spanish River Park or visiting the Children's Science Explorium at Sugar Sand Park.
Clearwater
Come to this Gulf Coast town for its three miles of white-sand beaches and stay for everything else the well-known vacation destination has to offer. The Clearwater Marine Aquarium has been rescuing and rehabilitating marine animals since 1972, including two injured permanent residents and film stars, bottlenose dolphins Winter and Hope. The 3.5 miles of historical Cleveland Street are packed with art deco charm and plenty of walkable shopping, dining and entertainment options. Plus, Downtown Clearwater has been undergoing major redevelopment in recent years, with aesthetic improvements already updating and beautifying the area.
Fort Lauderdale
The Yachting Capital of the World also lays claim to 3,000 hours of sunshine a year and an average year-round temperature of 75.5 degrees, so it's no wonder this port city is a popular locale for tourists and snowbirds alike. And does it ever have the attractions and amenities to match that appeal. Within the Greater Fort Lauderdale region, you'll find more than 4,000 restaurants, 63 golf courses, 12 shopping malls, 16 museums and 100 marinas; the city proper is surrounded by seven miles of beaches, making a seaside escape possible in practically any direction. It also features a host of concerts and art shows all year long: The Broward Center for the Performing Arts—one of the top-10 most-visited performance venues in the world—reopened in April with music, plays, ballet and children's shows of all kinds taking to its stage.
Gainesville
There's a lot more to North Central Florida's largest city than its vibrant college scene—though curious visitors can cram a lot of learning into their time here. The Butterfly Rainforest calls both Gainesville and the Florida Museum of Natural History home, where guests can get up close and personal with The Sunshine State's creatures of the past and the present. If branching out into plant life is more your thing, check out the Kanapaha Botanical Gardens, so named for its proximity to Lake Kanapaha, and acres of pristine, untouched land at Paynes Prairie Preserve State Park.
Jupiter
In 2018, WalletHub identified Jupiter as one of the country's best beach towns while Coastal Living has called it one of the happiest seaside town in the U.S. With parks upon parks brimming with lush greenery and scenic spots, there's plenty to see, from Dubois Park's historical home to Riverbend Park's flora and fauna to Carlin Park's easy beach access and picnic pavilions. And you literally can't miss the iconic Jupiter Inlet Lighthouse, a 153-foot-tall historical structure rising from the inlet's north side, which includes a museum and overlooks 120 acres of perpetually protected land.
Jupiter Island
Not to be confused with the town of nearly the same name, this island getaway is one of the poshest zip codes in not only the state but also the country. Jupiter Island is included within Hobe Sound, home to one of Martin County's four guarded beaches and a similarly wealthy community attracting famous long-term and seasonal residents alike. It also has some famously awe-inspiring natural wonders, like the Blowing Rocks Preserve, where high tide creates a daily water geyser amidst the mile-long limestone outcropping.
Miami
One of Florida's largest cities might be a little bit of a haul for some, but its diverse cultural, entertainment and dining options are worth the effort. The famed South Beach neighborhood alone can fill an entire day's itinerary beyond its beaches. Lincoln Road's walkable, off-limits-to-vehicles outdoor shopping district features premier shopping and plenty of artsy appeal; Ocean Drive has tons of restaurants and media-popularized sites that embody the true "SoBe" vibe tourists expect from the area; the "Historic Spanish Village" of Española Way evokes the Mediterranean villages it was modeled after and is home to a variety of restaurants, bars, art galleries and charmingly unique shops.
Naples
If you're looking for chic boutiques, high-end culture and world-class dining, look no further than this Gulf of Mexico city, which is one of the wealthiest in the state. Conversely, you'll also find tons of family-friendly activities that won't break the bank, miles of beaches and tons of natural wonders befitting a town near the Everglades' unique ecosystem—making it a popular trip for ecotourists, too. Whatever you're here for, just make sure you head to Naples Pier for its prime fishing, dolphin- and bird-watching, and some truly awe-inspiring sunsets.
New Smyrna Beach
Florida's Secret Pearl earns consistently high marks as a surf town, but has tons to offer outdoor enthusiasts of all kinds. Whether you want to stay on dry land to go golfing or hiking, take to the water for a swim, dive or boat ride, or even soar above it all with some kitesurfing, you don't have to stick to the beaches to enjoy this stretch of the state's "Fun Coast." For those in search of a more low-key way to spend the day, New Smyrna Beach has been named one of America's Top Small Cities for the Arts. Its nonprofit Atlantic Center for the Arts is the frequent first stop for national fine and performing arts shows before they head to New York City or hit the festival circuit.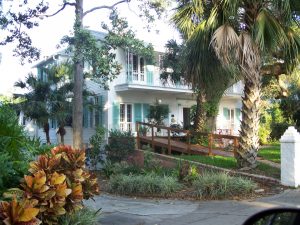 Ormond Beach
This Daytona Beach neighbor prides itself on combining the intimacy of a small town with a world-class resort experience, and is accordingly loaded with golf courses and places to shop to shop, as well as state parks, nature trails and historical sites. In fact, Ormond Beach boasts three locations listed on the U.S. National Register of Historic Places, one of which is The Casements, an early 20th-century mansion that millionaire oil magnate John D. Rockefeller purchased as his winter retreat in 1918. Today, the property consists of a city-owned cultural center, park and garden that overlook Halifax River—and every guest receives a dime, per Rockefeller's custom as host.
Palm Coast
Locals are quick to cite this eastern town's cinnamon-colored beaches and a golf course designed by PGA legend Jack Nicklaus with six of it holes overlooking the ocean as some of the city's biggest appeals—and that's a pretty good indication of the variety of offerings Palm Coast has in store for visitors. Start the day manatee-watching and end it with a spa treatment, or bookend your day with a visit to the harbor's marshlands and estuaries in the morning and a romantic dinner in the evening.
Pompano Beach
If you want to spend more time on the beach than getting to it, The Heart of the Gold Coast ranks high and often on local lists celebrating the state's most accessible beaches. And once you're there, the quiet atmosphere, plentiful fishing and scenic sites offer plenty of reasons to hunker down beside the ocean for a day. The historic Hillsboro Inlet Lighthouse is a picturesque peek into the past, the Pompano Beach pier has a retro vibe with some incredible views, there's a shaded playground and recreation area just for kids, and a clean, inviting boardwalk that stretches for miles.
St. Petersburg
This city holds the Guinness World Record for the most consecutive days of sunshine—768!—but that's far from the only reason to check out the aptly nicknamed Florida's Sunshine City. Its vibrant arts scene, well-preserved history and white-sand beaches helped St. Pete secure a "top cities to visit" designation in the Conde Nast Traveler 2020 Reader's Choice Awards. Last summer, the St. Pete Pier added 26 acres to the city's appeal, where visitors can enjoy an array of dining and entertainment options downtown that are set among tons of natural beauty.
Space Coast
Encompassing a handful of towns within Brevard County, this themed coast includes the Kennedy Space Center and the newly renamed Cape Canaveral Space Force Station launch sites. Its popularity extends past the hundreds of thousands of viewers it attracts for test and manned launches alike, though, with the Kennedy Space Center Visitor Complex, U.S. Space Walk of Fame and the Air Force Space and Missile Museum all attracting plenty of visitors in their own rights. Space enthusiasts are sure to be over the moon with the cache of memorabilia, exhibits, films, tours and simulators detailing different chapters of America's ascent to the sky over the decades.
Tampa Bay Area
Florida's third-largest city extends upward as much as it does outward, from the tops of its skyline to the shores of its titular bay, and has the variety of attractions and hidden gems one expects from a bustling metropolis. Sports fans can take in a variety of professional, minor-league and collegiate games. Arts aficionados have an array of musical, theatrical and cultural spaces at their fingertips. For history buffs, there are nearly 80 properties and districts on the National Register of Historic Places in Tampa alone, plus three National Historic Landmarks. There are a ton of museums of all kinds, too, including the Children's Museum of Tampa for the area's youngest visitors.
New Smyrna photograph courtesy of Coconut Palms II; Clearwater photograph courtesy of the City of Clearwater; Minzer Park photograph courtesy of the City of Boca Raton; The Butterfly Rainforest, courtesy of the Florida Museum of Natural History; SpaceX launch photograph courtesy of the Kennedy Space Center Visitor Complex.
Ready for a road trip to change your view for a day or two? We've got you covered with this list of locales to check out that are just a car ride away. […]
Read More