Sakowitz Smiles Orthodonticse2be8a5b524029c41c84762c9ae82c0c
Dr. Scott Sakowitz uses creativity and out-of-the-box thinking to give his patients the smile they've always wanted.

To Dr. Scott Sakowitz, creating a treatment plan for each of his patients is a little bit like solving a puzzle.
"It's about finding what's going to be the quickest way to get from point A to point B and what's going to give the patient the best result," he says.
Dr. Sakowitz is a board-certified orthodontist, a distinction only 10% of orthodontists have in the Orlando area. His practice, Sakowitz Smiles Orthodontics, has two conveniently located offices—one in Lake Nona and another in Winter Garden.
Sakowitz Smiles offers pediatric and adult orthodontic treatment using braces, clear braces and Invisalign. Following the American Dental Association and the American Association of Orthodontists guidelines, Dr. Sakowitz recommends children first visit the orthodontist at age 7.
"Dental problems are easier to prevent than to fix," he says.
Additionally, by catching an issue before it happens, Dr. Sakowitz is able to lessen the treatment time for patients—cutting months off of how long they may need to keep their braces on.
When it comes to treatments for adults, Invisalign is a popular option offered by Sakowitz Smiles. Invisalign allows people to avoid traditional metal braces for something that is more subtle.
Although there are many studies that show a link between having a great smile and happiness and success in life, Sakowitz says the appearance of your teeth is not the only reason to visit your orthodontist.
"Having a good bite where everything fits together well and everything functions properly helps you keep your teeth for the rest of your life," he says. "If teeth are rotated or crowded, one on top of the other, it's difficult to clean, so you're at an increased risk for cavities and gum disease."
Born and raised in Central Florida, Dr. Sakowitz grew up in Longwood and graduated from Lake Mary High School. After an undergraduate education at the University of Florida, he went to the Ivy League University of Pennsylvania's School of Dental Medicine and then completed his three-year orthodontics residency at the University of Michigan.
After completing his training, he returned to Florida with his wife, Dr. Martinez, with whom he has two children.
"Florida feels like home," he says.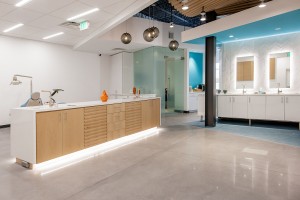 Upon his return to the Sunshine State, Dr. Sakowitz opened his own practice, in part, because he wanted to give patients a more personalized dental experience.
"Not every orthodontics office out there takes the time to show people what's actually going on in their mouths or their children's mouths," he says. "I like to dedicate uninterrupted time to speak with patients and parents about their individual situation and what I recommend to give them the smile that they've always wanted."
The patient experience is important to Dr. Sakowitz, so not only does he place an emphasis on customer service but he also believes in using the latest cutting-edge technology. In fact, both of his offices use digital tooth scanners to make 3D computer models of patients' mouths.
"The digital tooth scanner has really helped us get away with one of the things people associate with orthodontic treatment, which are those messy molds that taste awful and make you feel like you want to gag," he says. "And we've been able to get away from that 100%. It's really exciting to be able to offer technology like this."
With the help of 3D printing, Dr. Sakowitz's offices are also working toward being able to offer same-day turnaround for retainers without taking a mold.
This propensity toward creativity and out-of-the-box thinking is in some measure a result of Dr. Sakowitz's lifelong enthusiasm for puzzles, evidenced by the fact that he owns and runs a number of escape rooms and he even appeared on Wheel of Fortune, where he was triumphant as the winning contestant.
But unlike some of the games at his escape rooms, with orthodontia, he always knows what the puzzle's final reveal is going to be.
"In my mind, there's always one solution: that ideal bite and that ideal smile."
Sakowitz Smiles
Offices in Lake Nona & Winter Garden
407-627-1187 | SakowitzSmiles.com
Dr. Scott Sakowitz uses creativity and out-of-the-box thinking to give his patients the smile they've always wanted. To Dr. Scott Sakowitz, creating a treatment plan for each of his patients is a little bit like solving a puzzle. "It's about finding what's going to be the quickest way to get from point A to point [… […]
Read More