Palate & Side Dishe2be8a5b524029c41c84762c9ae82c0c
TOP FIVE: TACOS
SWEET POTATO TACO
At Antojitos Authentic Mexican Food
Universal CityWalk
This unique taco has a crispy shell, filled with roasted sweet potatoes, almond chile salsa, fried corn and scallions. It's topped with non-dairy cheese, making it an excellent vegan alternative.
TACOS AL PASTOR
At La Fiesta Mexican Grill
Crystal Lake Shopping Center
A customer favorite, this taco contains pork tips marinated in achiote, pineapple and guajillo sauce. It's served in a corn tortilla and topped with cilantro and pineapple bits that give it a sweet kick.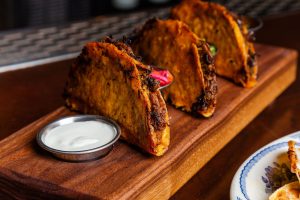 BIRRIA TACOS
At Rocco's Tacos
Plaza Venezia, Dr. Phillips
Inside of a crispy, white corn tortilla resides a flavorful chili beef brisket with pickled red onions, a rich crema sauce and lime. To add even more flavor, try dipping it into the caldo "broth" on the side.
BRUSSEL SPROUTS TACO
At Reyes Mezcaleria
North Quarter District, Downtown Orlando
These delectable, crispy, fried brussels sprouts are served on a tortilla and topped with a sweet and tangy tamarind glaze, aged cotija cheese and pickled red onion.
FIRECRACKER SHRIMP TACO
At 3 Sisters Speakeasy
Broadway, Kissimmee
This tasty taco features crispy shrimp tossed in a creamy sauce with tomatoes and shredded cabbage, and is served with a chipotle cream sauce.
RAISE A GLASS: MARGARITAS
HABANERO LIME MARGARITA
At Dockside Margaritas
Disney Springs
This flavorful cocktail features the perfect combination of spicy and sweet. It is made with Patron Silver Tequila, habanero lime, lime juice and Florida sugar cane simple syrup.
PINEAPPLE MARGARITA
At Uncle Julio's
ICON Park
Made with fresh pineapple juice and lime juice with 100% agave Lunazul Tequila and St-Germain, this tropical libation is right for summer. For an additional fee, diners can add a premium tequila floater with Lunazul Silver or Exotico Resposado.
HIBISCUS FLAVORED MARGARITA
At Tamale Co. Mexican Street Food
The Hourglass District
Quench your tastebuds with this authentic homemade cocktail. Fresh hibiscus flowers are boiled into a tea eventually becoming an agua fresca. The tart, yet sweet taste of the agua fresca goes hand in hand with the classic house-made margarita.
Side Dish
Restaurant news from throughout Greater Orlando
By Karen Nimetz

Marlow's Tavern at Pointe Orlando recently reopened its doors for happy hour and dinner. The neighborhood tavern features classic American fare with an upscale twist. The menu offers a diverse combination of classic dishes that are updated and elevated to a higher level.
Celebrity chef Gordon Ramsay recently announced that he will be opening up a Gordon Ramsay Fish & Chips restaurant at ICON Park this August. The restaurant will feature classic British fare as well as unique drink and dessert options.
Beloved Winter Park restaurant The Hangry Bison is planning to open a second location on Plant Street in Winter Garden this August. The restaurant is known for its bison burgers, craft beers and cocktails, as well as an elaborate whiskey and bourbon selection.
Gnarly Barley will be changing locations this fall. It will be moving from its current location in Belle Isle to a larger facility in Ivanhoe Village, not far from its sister venue, GB's Bottle Shop. The new location will allow the restaurant to expand its menu offerings as well as continue to serve all of its signature sandwiches and crafts beers.
Top-notch tacos and libations to love. […]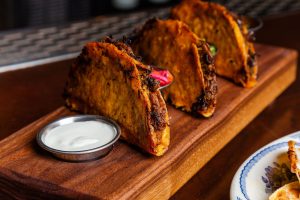 Read More