Franco Nero Strikes Again83a5d9349b25fab8777bfceb636da673
When you sit down to discuss an acting career that's spanned 50 years and more than 200 films, it's hard to know where to begin. Franco Nero, though, wears his status as a screen legend casually – he loves to tell a good yarn, whether it's about bumping into Andy Warhol or visiting Muhammad Ali's house.
The Italian is probably best known for his role in Sergio Corbucci's influential 1966 spaghetti western Django, in which Nero wields a coffin loaded with a machine gun. But he's made films in nearly every conceivable genre for the likes of Eurocrime masters Corbucci and Enzo Castellari, to international arthouse directors Luis Buñuel and Rainer Werner Fassbinder. At 79, he's still working as hard as ever, with a new film – the World War Two thriller Recon – currently streaming in the UK.
LWLies: How are you doing during lockdown?
Nero: Well, I'm a little upset, because I've had so many projects postponed. I was supposed to do a movie in New York, a wonderful western called Django Lives!. And one in Cuba with the director of Recon, Robert Port. And my own movie, The Man Who Drew God, where I would write, act and direct.
There's a lot of nostalgia for the filmmaking of the '60s and '70s, especially with spaghetti westerns and crime thrillers like the ones you made. Do you ever get nostalgic about the past?
Yes, that was real cinema. TV ruined everything. At that time, there was no TV and big movie stars were there to make people dream. Now everyone knows what you're doing; they know everything. There is no secret anymore, no magic. And the way we were shooting movies at that time, it was shooting for cinema. Now everything is shot for TV, even if it's a movie. They shoot like it's a video game – boom, boom, boom. They get bored if it's too slow. If I choose to see movies, I see old movies. Yesterday, I watched Seven Brides for Seven Brothers and West Side Story. On Italian TV recently, they were showing 60 of my movies.
Did you watch any of them?
I watched some. Some I thought, 'I'm not bad – I'm actually quite good in that movie.' But some of them I said, 'Oof, this is a little shitty movie.'
You were discovered by John Huston. Can you tell us about that?
When I was 22, I came to Rome without a penny. And I was helping a photographer, and one day a friend of his who was a photographer from De Laurentiis studios asked to take close-ups of me. Those photos ended up on the desk of John Huston. He asked me to meet him in this hotel […] and he looks at me and says, 'Now undress!' He wanted to see my body because I was playing Abel (in the Bible) and he needed to see. He looked at me very carefully and then said I could go.
After two days, somebody said, 'Mr Nero, John Huston chose you to play Abel.' Richard Harris was Cain. Huston said to me, 'You have a wonderful face, wonderful physique, but you have to learn English.' So he said, 'I will be your teacher.' At a certain point, he gave me records of Shakespeare performed by John Gielgud, Michael Redgrave, Laurence Olivier. I was learning Shakespeare phonetically without knowing what I was saying.
Joshua Logan, the director of Camelot, told me the same thing. Physically I was perfect for the part of Lancelot du Lac, but my English was not good enough. I said, 'But Mr Logan, I know Shakespeare in English!' I started to recite, 'All the world's a stage, and all the men and women merely players,' and I went on for half an hour. He said, 'If you can do Shakespeare in English you can do a few bloody lines,' and he hired me! So that was because of John Huston.
Over the years, have there been many films you turned down that you wished you had done?
I've done 230 movies in my life, so I was very busy for many years. I had so many offers I had to say no to, but yes it happened many times. There was a movie that won an Oscar, by Vittorio De Sica, The Garden of the Finzi-Continis. Lots of American films!
You have a good relationship with Quentin Tarantino – he loves you and your movies, and of course you have a cameo in Django Unchained. What did you make of Once Upon a Time in Hollywood, with all its references to spaghetti westerns and poliziotteschi?
I like the movie. I'm practically in the movie! Have you seen me in it? It's the poster. When the young girl [Margot Robbie] goes to the cinema, there's a big poster of [Sergio Corbucci's 1968 film] The Mercenary. And remember, Django Unchained is a homage to Corbucci and to me. The original Django was also about oppressed people, in that case the Mexicans.
I wanted to ask about your role in Fassbinder's Querelle. He was a notoriously difficult director, wasn't he?
For me, he was the easiest director who I worked with. He was looking for me for Querelle, and I accepted. When we met, I asked Rainer how he wanted me to play the character and he said, 'Just do it. If there's something wrong, I'll let you know.' And then he never told me a word. Nothing! One day I went over to his house, and I saw he had practically 40 videos of my movies.
So he was starstruck!
He came up to me in Paris Bar, in Berlin, where I was eating, and asked the waiter for a napkin. He wrote a contract on it, saying that I, Franco Nero, would do Fassbinder's next three films. I signed it and he put it in his pocket. But as you know, he died at the end of the movie.
You've worked with some huge stars over the years. Do you feel there was anything in particular you learned from any of them?
I have worked with very big stars – Henry Fonda, Burt Lancaster, William Holden, Harrison Ford – but the actor I will never forget is Laurence Olivier. We were shooting Last Days of Pompeii in Pinewood, outside London. He was already quite old, but strangely enough when the camera started rolling he was up, and when they finished the scene, boom, he'd sit down like he was dead.
During the lunch break, he said to me, 'Franco, can you do me a favour? I want to see my friend who's on the other soundstage. Can you help me walk over?' So I said of course, and I put him on my shoulder. I said to myself, I have the greatest actor of all time on my shoulder and there's not one photographer around!
But he said to me, 'Would you like to be a star or an actor?' I said I'd like to be a good actor. In your career you go up and down, but if you are considered a good actor, in the long run you will get the fruits. I followed this advice. I played movies for children, westerns, action movies, political movies, musicals – everything. I enjoyed doing all this. Every time, I think of Laurence Olivier and his advice.
Recon is now available on Blu-ray, DVD & Digital Download from shops and online courtesy of Dazzler Media.
The post Franco Nero Strikes Again appeared first on Little White Lies.
The screen icon talks Tarantino, the delayed Django Lives!, and the time he got naked for John Huston.
The post Franco Nero Strikes Again appeared first on Little White Lies. […]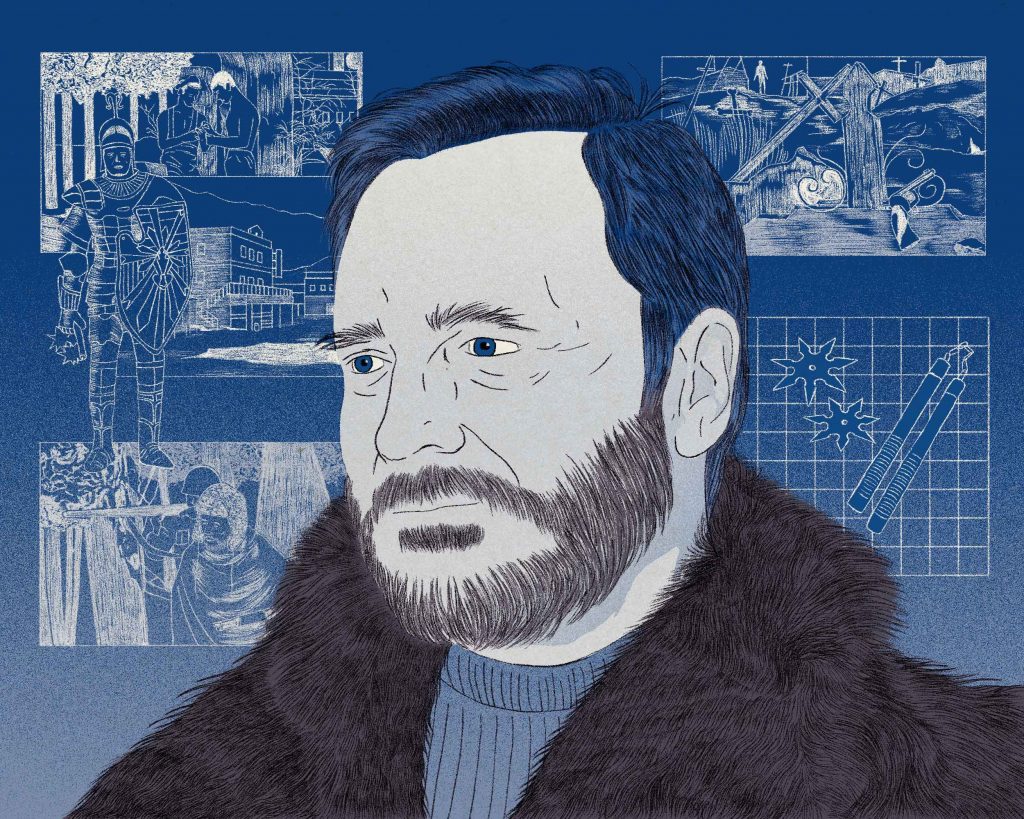 Read More