Answer the door, it's the first trailer for M. Night Shyamalan's Knock at the Cabin826a191c2fbe3a8d364e062c7fb275c8
When someone goes on a lovely vacation with their family in a film directed by M. Night Shyamalan, it can mean only certain doom. Just last summer, he turned an afternoon's jaunt to the beach by a clan of resort-goers into a fight against accelerated death in Old, and now he's taken to that most classical of horror locales: the cabin in the woods, where another twisty and twisted puzzle box of suspense will be unlocked.
The first trailer for Knock at the Cabin appeared online in the dead of night, an unexpected move for a film that — like Old — appears to take place almost entirely in broad daylight. Though the Shyamalan carnival-barker touch is evident in a clip that reels its audience in with the promise of a genre twofer that still leaves much to be revealed, even as it sets up a fiendishly clever premise.
Husbands Andrew (Jonathan Groff) and Eric (Ben Aldridge) have taken their daughter Wen (Kristen Cui) for a weekend of sun and swimming at a woodland getaway, but their idyll is soon disturbed by a home invasion. Break-ins aren't so uncommon in the Shyamalan oeuvre, but the intruders (Dave Bautista, Rupert Grint, Nikki Amuka-Bird, and Abby Quinn) aren't garden-variety psychos tying up the happy couple for the hell of it; they've come with a sensitive proposition, explaining that this family has been selected to make a difficult choice that could decide the fate of the planet.
The trailer gives away the pivot from "home-invasion movie" to "apocalypse movie," but there's still plenty of mystery remaining, in particular the question of what these poor bastards will be made to do for the sake of all humankind. The arrival of enigmatic figures with an unthinkable offer calls to mind Richard Kelly's criminally underrated The Box, in which a Twilight Zone-ish setup (a couple has the chance to push a button for one million dollars, knowing that if they do, a random person will die) gives way to a more arcane mythology involving watery space aliens.
In any case, it's a safe bet that we ain't seen nothing yet, in that everything contained within the trailer could have very well come from the first fifteen minutes of a still-shadowy film. In the unpredictable universe of eternal Night, no one is safe, especially not those just trying to enjoy themselves at a leisurely excursion into nature.
Knock at the Cabin comes to cinemas in the US on 3 February. A date for the UK has yet to be set.
The post Answer the door, it's the first trailer for M. Night Shyamalan's Knock at the Cabin appeared first on Little White Lies.
The suspense master's latest is a horror twofer — a home-invasion film and an apocalypse film.
The post Answer the door, it's the first trailer for M. Night Shyamalan's Knock at the Cabin appeared first on Little White Lies. […]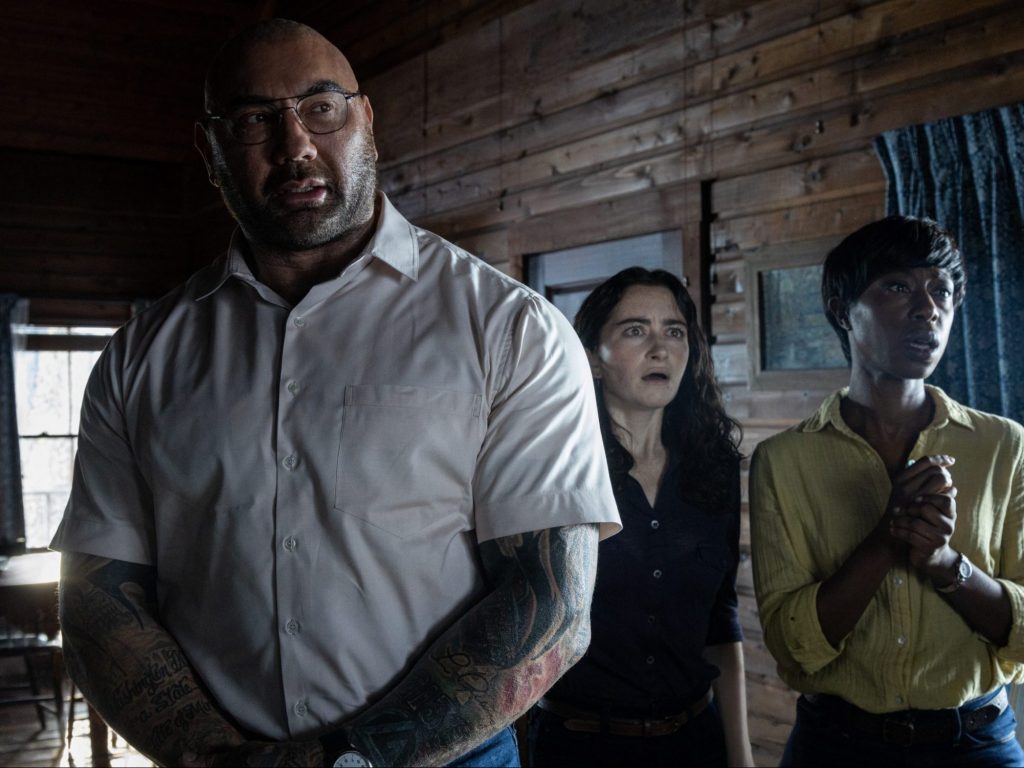 Read More