A Global Impacte2be8a5b524029c41c84762c9ae82c0c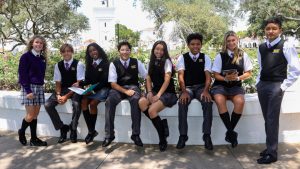 From the moment it was founded in 1912, Montverde Academy (MVA) has been devoted to enriching the lives of students both inside and outside the classroom, and has established itself as a forward-thinking academic institution that inspires every child to reach their full potential. Of the school's many unique aspects, perhaps none is more impactful than its incredible diversity, with native Floridians as well as 75 countries represented in a warm environment welcoming pupils from grades Pre-K3 through 12.
Amy Napoles and Alfred Baafi are just two examples of people from completely different walks of life who found a home at MVA and became valuable members of the community.
Despite growing up in Central Florida, Napoles had no idea of he Academy's rich educational history. She was teaching science at a public middle school when a former colleague informed her about an open position at MVA, and she soon fell in love with its mission.
"Now that I'm here, I can't imagine ever going back and doing anything else but this," she says. "There are a lot of things that are very unique to this institution compared to where I worked in the past or even where I have been a student in the past. If you are a public school teacher, you are being put into a box with more and more restrictions on what you can teach, how you can teach it, what you can say and what you can't say.
"Coming here, the bottom line is that the administration assumes that we are professionals in our field, so anything that we decide is worthy for our curriculum or activities, they let us have free reign over what we do in our classroom. That kind of autonomy is priceless."
Napoles has taught a range of science courses at MVA and is also the faculty sponsor of the sustainability branch of the Subject Area Concentration (SAC) program. There are seven major concentrations in the SAC program, and the sustainability branch endeavors to give students a foundational background in natural sciences with a focus on conservation of natural resources and biodiversity.
She appreciates the chance to demonstrate how science applies to students' everyday lives and its importance in their communities. For example, this past spring, she and a group of students participated in a project where they planted 500 duck potato plants on the shoreline of nearby Lake Florence to absorb nutrient runoff and preserve the water quality.
"It's very exciting because it's real science, it's real life and it's making a real impact, but it's also a way for me to get the students interested and engaged and learn about something that's not just in a textbook," she says.
Napoles is mindful of her responsibility in preparing future leaders whose decisions will impact the environment. She is encouraged by this generation's interest in caring for the planet.
"The student body here is so diverse, not only because they are physically from all different places, but because their backgrounds and their experiences are so different that they come here with fantastic global perspectives on a lot of different issues," she says. "They have an interest in becoming better stewards of the planet, because they understand what's happening in places like India and South America."
Baafi is one of those students with a global perspective, a native of Ghana who dreamed of furthering his education in the United States. After several false starts at other schools, he was finally given the chance at MVA, where he is an exceptional student and a star soccer player.
"I came here in 2019 and it was my first time leaving my country," he says. "I told myself that I had to make the most of the opportunity, and my mom is proud of me for lifting up our family.
"The education is much different between Ghana and the U.S. Here at Montverde Academy, through the kindness of the teachers, they go out of their way to explain the subject and make sure you understand."
Baafi also appreciates meeting people from around the world. "I have friends from Brazil, Canada and Senegal. Due to my strong friendships with them, we are always laughing and being respectful of each other. It's great to learn about different cultures."
A painter and sculptor, Baafi has been encouraged to pursue his love for art during his time at MVA. He is also known for his creativity on the pitch, and is a highly recruited midfielder who credits the soccer program for sparking his progress.
Baafi aspires to play professional soccer, and soon his path will lead away from MVA, where he has made many lasting memories. But Napoles feels she has found a professional home, and is so fond of the Academy that she has enrolled her two sons in the lower school.
"I could not be more proud to be part of our community and I have so much respect for the lower school, because I see what those teachers are bringing to my kids and the excitement my kids have about being here. I also get to see it in the high school, in the reflection of kids who have been going to school here since Pre-K3. They are the most amazing humans, and if this is what my kids are going to be like when they're juniors and seniors, I will feel incredibly blessed that they had this experience."
Montverde Academy
17235 7th St. | Montverde
(407) 469-2561
For more than 100 years, Montverde Academy's engaging and challenging curriculum has inspired students from Florida and around the world. […]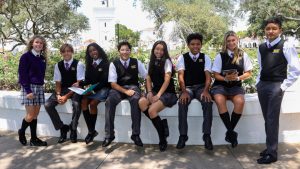 Read More